About PASHMINAANDSILK.COM
We offer a wide range of scarves and pashminas made from the finest silk, cashmere, and natural fibres by artisans in Kashmir and Vietnam.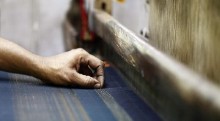 We are a small private company based in the United Kingdom and registered under company number 9571757. We specialise in offering scarves and pashminas made exclusively from natural fibres by artisans in both Kashmir and Vietnam.
We have travelled extensively throughout India and Vietnam in order to find suppliers for our products. All of the suppliers we use are well established and have provided us with excellent service over a long period. Particularly important to us is that our suppliers souce their goods from traditional artisans from the main producing regions in their country. We have personally examined items being made from cashmere and silk in each of these countries.
Many of our scarves are unique and designed to our patterns and specification. They are not available to other retailers and will not be found either on the high street or internet. Whilst uniqueness is an advantage we offer to our customers the traditional methods used in the manufacture of our products enhance that exclusivity through the quality of the items offered.
In addition to the quality of the products we offer our second aim is to provide a level of service to our customers to match. We personally inspect all orders before packing and dispatching to our clients. As a result, the need for our customers to return items because of faults in the manufacture or materials used is exceptionally low.
Customer satisfaction is important to us. We offer a no quibble returns policy as we understand our customers will have their own specific requirements for the items they purchase from us. For example if colour or texture is not quite right for you we would prefer to offer an exchange or for the item to be returned to ensure you remain satisfied with your purchase.
We use a priority postal service for our orders as a minimum. We always dispatch our orders on a same day basis. Where orders are received outside working hours or at weekends we dispatch using the first available post thereafter.
Due to our unique relationship with our suppliers we are sometimes able to offer our products to special order. Our handmade luxury cashmere products for example can often be made in a size to your specification. If you also require these items in a colour not currently offered by us we may also be able to help.
Please contact us with your specific requirements and we will do what we can to help. Also please take time to sign up to our regular newsletter. You will not only find the latest news about our products but you can also benefit from the range of promotional discounts that will make your purchases even better value.
We do hope you like our products and find our website both interesting and easy to use. Please add us to your favourites and visit us regularly as we are constantly adding to our range of scarves and pashminas.
Pashmina & Silk Ltd.
PASHMINA & SILK LTD
Barsham Barn, Barsham, Beccles, NR34 8HBCompany Registration 9571757